Description
Enjoy the ultimate in style & performance® of Pride® Power Lift Recliners. If you're searching for a power lift recliner that is the ultimate in style and performance®, look no further than Pride Power Lift Recliners. Our power lift recliners are designed to be a functional and fashionable part of your home décor. Each lift recliner is built for quality and reliability, so you can enjoy it worry-free for many years to come.
No matter what style of lift recliner you enjoy, Pride is sure to have a model that will meet your specific needs. With so many styles, colors and materials available, it's no wonder we're America's #1 Lift Recliner Brand!
The Metro is part Pride's new VivaLift Power Recliner line. The Metro's contoured seat is designed to hug you into the chair while the overstuffed backrest gives you incredible comfort when sitting or relaxing for a nap. The split seam back creates two backrest pillows supporting the lower back as well as the head and neck. A full chaise pad with leg rest extension provides full support from knees to toes. 
The contoured seat provides optimal cradling to provide a secure seating area as well as support for those who need assistance from sliding or leaning. The Metro comes standard with a footrest extension for taller users or full lower leg and foot support for average height to shorter users. Also standard are a power adjustable head and lumbar pillow. The easy-to-use hand control features a USB charging port, allowing you to charge your phone or tablet in the chair without the need for extension cords that could tangle in the lift chair.
Power Headrest
Infinite position combinations for your head, neck and shoulders with the touch of a button.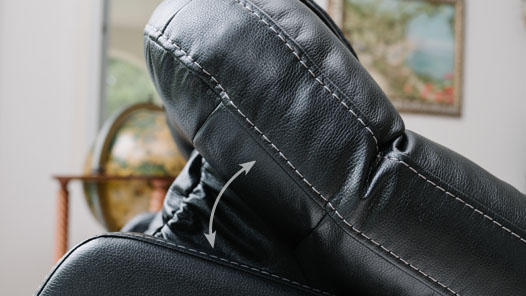 Power Lumbar
Personalize your lumbar comfort at the touch of a button.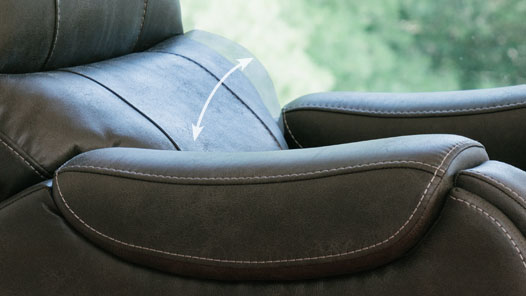 Footrest Extension
Standard footrest extension provides additional support.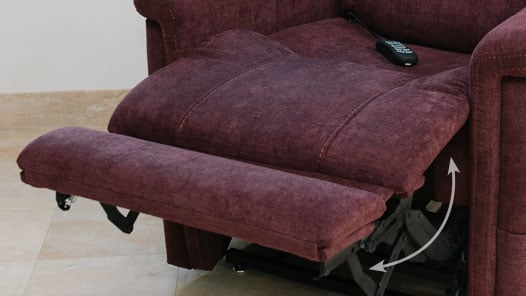 USB Remote
Soft-touch remote with USB charger.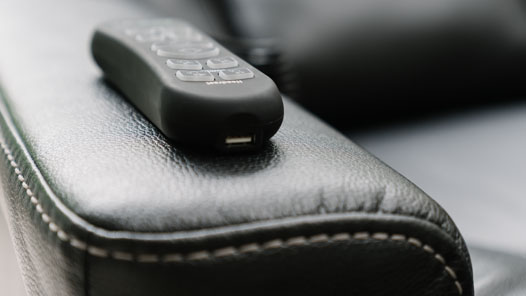 Features
Power Lumbar for personalized ergonomic comfort
Full-Width Power Headrest to lift head, neck and shoulders
Lithium Battery Back-Up is an industry first! Abundant power lasts and replaces ordinary one-time-use backups
Fashion Forward Styles set these chairs apart from all others!
USB remote
Footrest extension
Infinite lay flat
Specifications
| | |
| --- | --- |
| Model | Metro PLR925M |
| Weight Capacity | 400 lbs. |
| User Height Range | 5'4" - 6'0" |
| Seat to Floor | 19" |
| Seat Depth | 21" |
| Seat Width | 21" |
| Top of Back to Seat | 26.5" |
| Back Style | Split Back |
| Fully Padded Chaise | Yes |
| Footrest Extension | Standard |
| Recline Positions | 4 Position |
| Distance From Wall | 14" |
| Overall Chair Width | 33" |
| Chair Weight | 142 lbs. |
 Warranty
7-year prorated warranty
Lifetime warranty on steel lift frame
Meeting and Exceeding High Standards for your Peace of Mind.
*Pride FDA Class II Medical Devices are designed to aid individuals with mobility impairments
Your Pride product has undergone thorough product testing to ensure safety, durability and performance.
Our power chairs, scooters and lift chairs are Food & Drug Administration (FDA) approved medical products that require specific testing prior to release for public use.
The testing requirements accepted by the FDA were developed by the American National Standards Institute/Rehabilitation Engineering & Assistive Technology Society of North America (ANSI/RESNA).
The tests are conducted in accordance with the requirements of the ANSI/RESNA Test Standards and complement an additional stringent testing regiment developed by Pride's Research & Development Team.
All products have passed, and in many cases, exceeded test criteria set forth, assuring the high level of quality synonymous with Pride.
Some of the items our testing criteria include are:
Product Stability & Brakes Effectiveness Tests
Fatigue & Impact Strength Verification Tests
Overall Product Performance Verification
Dimensional Requirement Compliance
Product Durability & Reliability Testing
Material Protective Coating Testing Verification
Misuse and Abuse Testing
Ergonomic Verification
Environmental Testing for Adverse Weather Operation Conditions
Electronic Systems Performance and Durability
Chemical and Bio-Contamination Analysis Testing for Toxicity Verification
Cal 117 Flammability Test Compliance for Seating Foam and Fabric Components
UL94VO Flammability Testing for Compliance of Plastic Components
Electromagnetic Compatibility (EMC)