Adaptive Tricycles provide therapeutic, reciprocal exercise with all the fun of riding. They allow individuals with several conditions such as autism, down syndrome, fetal alcohol spectrum disorder, high functioning cerebral palsy, traumatic brain injury and other balance issues, to experience fun, therapy and most of all – the freedom of mobility. 
Description
The 1024 Community Cruiser provides a good mobility option for adult or teen riders and offers an adjustable easy-slide wheelchair seat for easy rider transfer. This tryke's hand crank operates with a feather light touch and features a 3-speed Sturmey Archer hub for conquering hilly terrain. A tight turning radius offers high maneuverability. Community Cruiser features a large basket for shopping, a coaster brake and a front hand brake. Custom remote location brake and shifting kit available. Since this is a hand tryke, make sure the rider's arm length fits within the range. Available in Amtryke red. Expert assembly required.
Features
Rolled steel frame with low seating for easy rider transfer

Low center of gravity provides added stability and hand-powered coaster brake

Front linear pull caliper brake and hand-powered coaster brake

Easy-slide wheelchair seat with quilted back and foam pad

Self-centering front wheel

Adjustable foot platforms

Front and rear safety reflectors

24 inch wheels with smooth tread pneumatic tires

Canted rear wheels for added stability

3-speed Sturmey Archer grip shifter

Steel wire basket;

Safety helmet
Specifications
Leg Length: 22-41 in.

Arm Length: 22-26 in.

Height: up to 72 in.

Max weight: 250 lbs.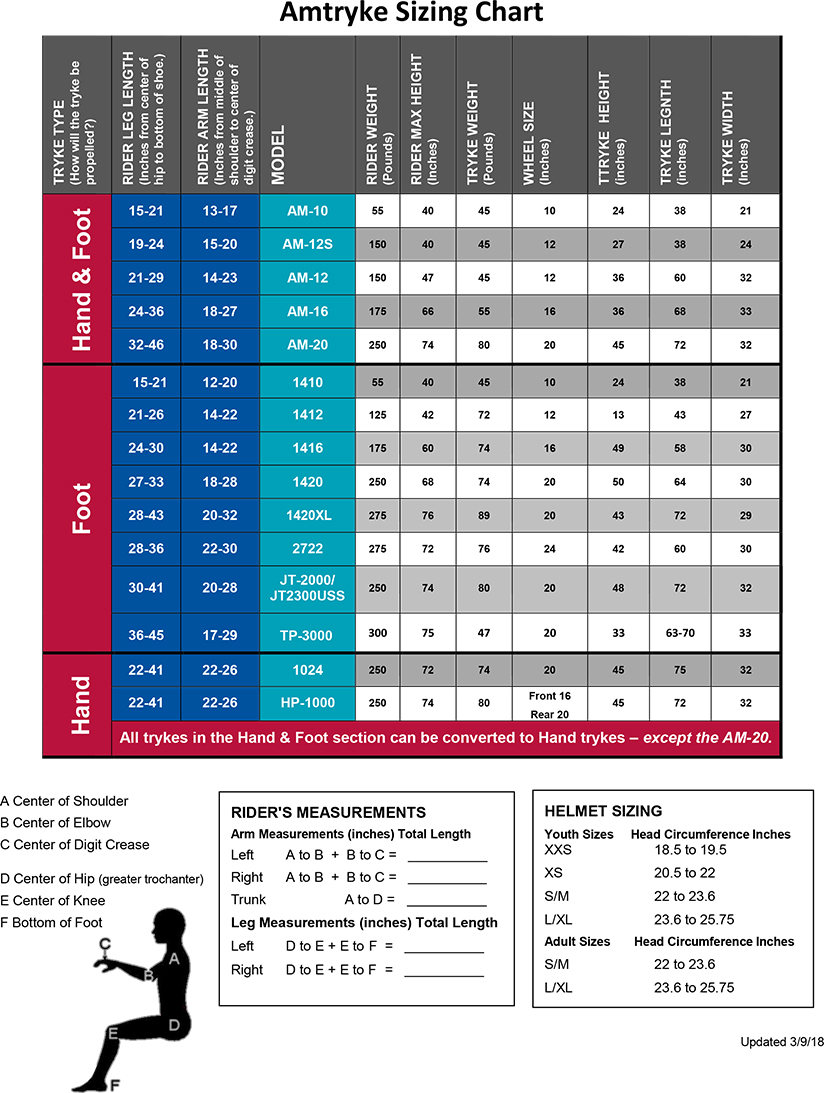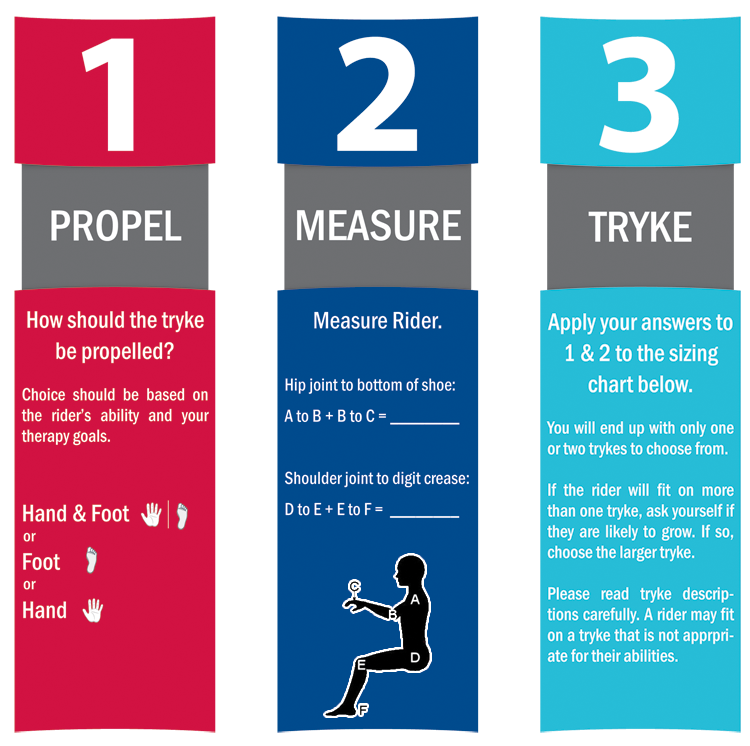 Measuring Tips: The leg measurement is on the outside of the leg (not the inseam), from the hip joint to the floor—with the shoe on.
If you have trouble finding the hip joint, ask the rider to squat a bit or sit down. The fold between the torso and the leg is the point to measure.
For the arm measurement, by "digit crease" we mean the first set of knuckles (ones closest to rider's torso).
Measure both arms and also both legs, there may be a difference. If there is, use the shorter measurement.
Wheelchair Seat Bar Ends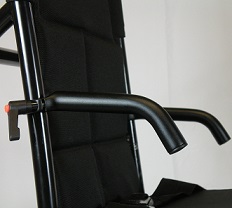 Handles for wheelchair seating. Bar Ends slide over seat back tubes and work as handholds. Attaches to the seat back posts.
Wheelchair Swing-Away Seat Arms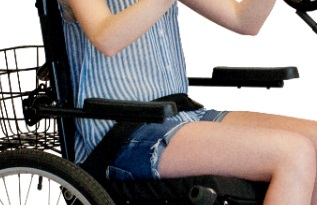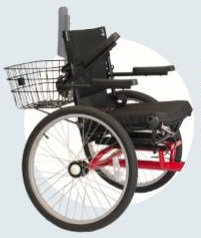 Swing away design wheelchair arms. Sold in pairs. Attaches to the seat back posts.
Wrist Wraps Available in 4 sizes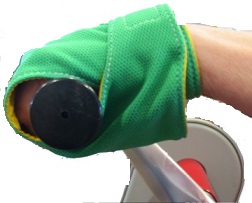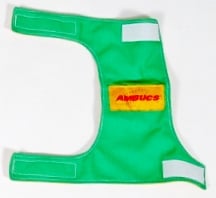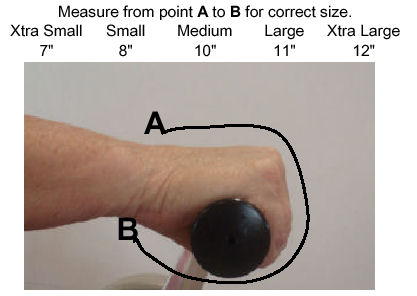 Size Range: XSmall - Large. Includes one pair. Wrist wraps help maintain riders hold on hand grip. Pair of soft washable cloth wraps secure around wrist with hook and loop closure. Sizes are determined by the measurement from A. top side of wrist around hand to the B: bottom side of wrist.
Wrist Brace Holding Mitt Available in 5 Size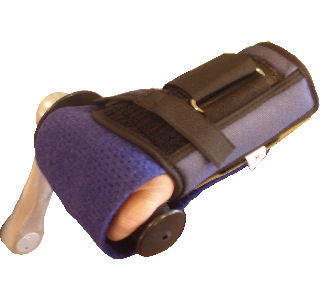 XXS, XS, S, M, XL - [Large has been discontinued]. Size is Wrist Circumference. This is a combination of a wrist brace and a holding mitt. The wrist brace holding mitt helps maintain hold on the handgrip while providing wrist stability. Durable padded material for maximum wear and comfort. Measurement is wrist circumference.
Knee Adductor Positioning Strap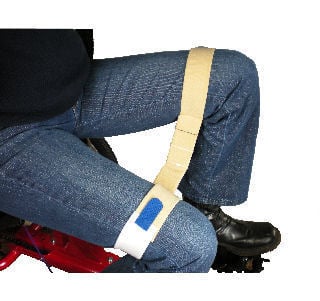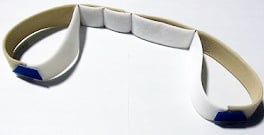 Hook and loop strap designed for riders who need help keeping their legs in proper alignment over the pedals. Available in 3 sizes: small, medium, large. Sizing is the circumference of the thigh just above the knee. 
Please Select a Size
- The Size is based on the leg circumference just above the knee.
Safety Flag with Amtryke Logo and Bracket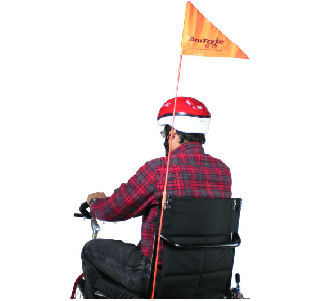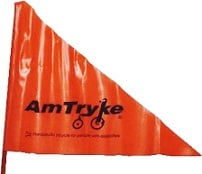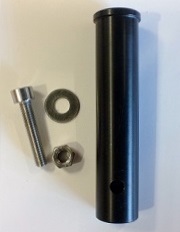 Orange flag with logo and 2 piece vertical rod and black plastic mounting grommet for use on Amtrykes models.
License Plate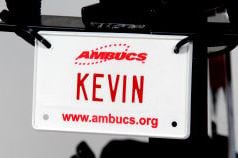 License Plate with red letter Decals. Personalize your tryke with a license plate.
Water Bottle with Cage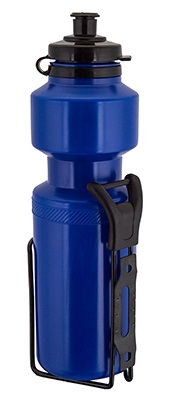 The 25 oz water bottle comes with a cage to attach it.