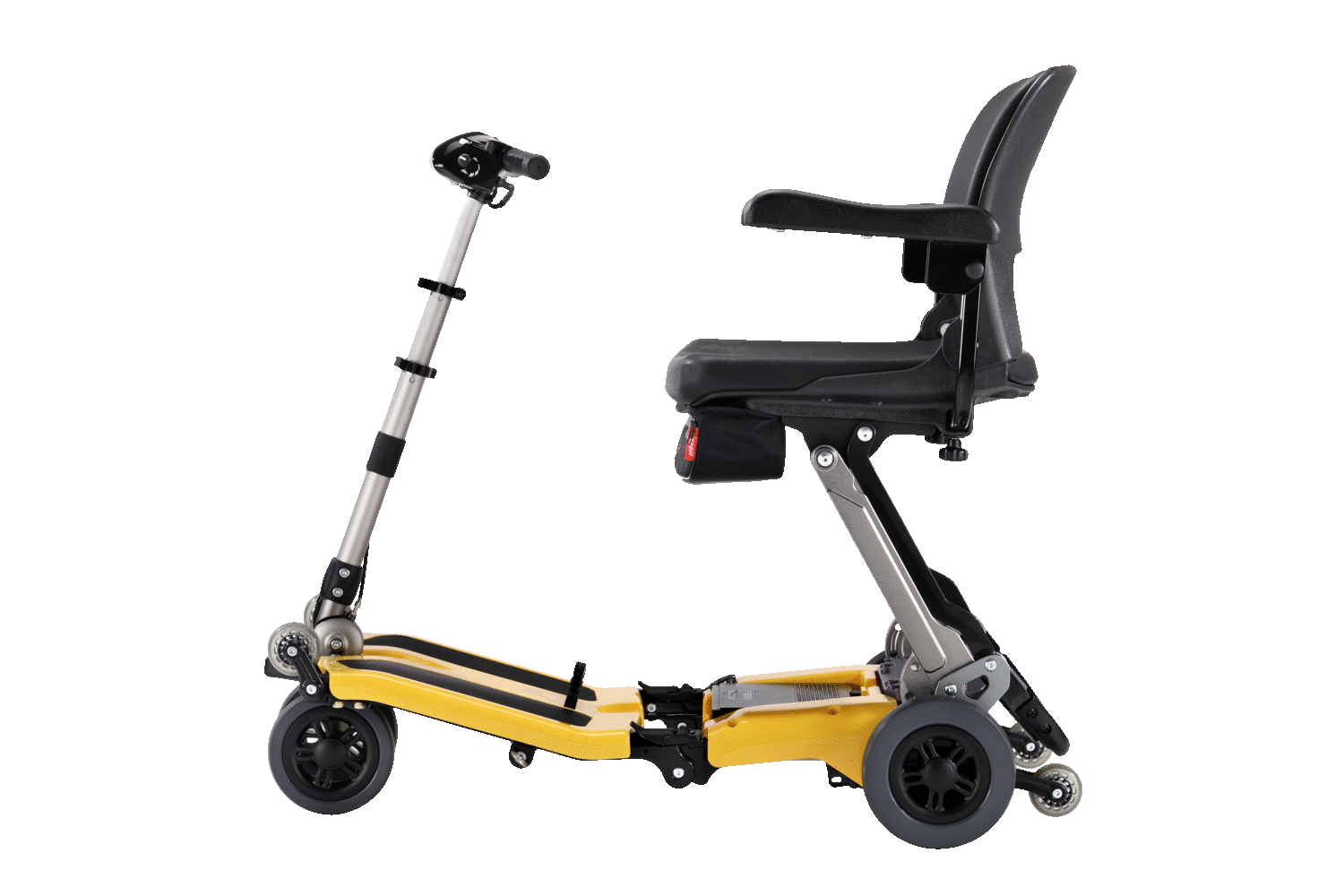 Limited Time--FREE Memory Cushion & FREE Charger Bag!
Click FREE ACCESSORIES
The Golden Elite is the newest edition to the Luggie Lineup. Golden shares all of the great specifications of the original Luggie Elite model, however, this model has been upgraded with a superior omni suspension system to maximize the riders ground clearance, absorb vibrations during long bumpy rides and a hidden main cable that reduces chances of damage during use.
The brand new Luggie Elite is the easiest most portable scooter! The Elite is just as portable as the Standard Luggie but it goes faster, goes farther and can hold more. With a weight capacity of 320 pounds and a travel distance of 10 miles there is no other lightweight portable folding scooter on the market that can go farther or hold more. What's even better is they did all this without increasing the weight. You can still slide the Luggie Elite in and out of your car making it by far the easiest scooter on the market to take with you in your car, on a plane or anywhere you need to go. The Luggie Elite has all the other great features that made the Standard Luggie the best folding scooter on the market. It still has a universal charger and is TSA and FDA approved, and now has extended handlebars for better ergonomics.
Features
Weight Capacity: 320 lbs.

OMNI Suspension system

PU non-scuffing tires Auto-connecting front to rear cable

Front frame-mounted seat post offers maximum stability

Modular design for easy serviceability

Larger 16" wide seat with armrests

Retractable ergonomic front tiller

LED Battery indicator

Convent off-board dual voltage charger can charge battery pack on-board or off-board

Redesigned frame for extra durability

Newly extended handlebars for better ergonomics

Quick folding and unfolding

Auto retractable bumper and retractable handlebar

Folded scooter conveniently rolls along like a travel suitcase

Airline safe
Specifications
Weight Capacity

320 lbs.

Product Weight

57 lbs.

Heaviest Piece

52 lbs.

Battery Weight

5 lbs.

Battery Type

 10.5Ah li-ion

Optional 16.5AH li-ion

Maximum Speed

4 mph

Drive Range

15 Miles (10.5AH li-ion)

22 Miles (16.5AH li-ion)

Turning Radius

40"

Seat Width

16"

Seat Depth

15"

Overall Length

39"

Overall Width

18"

Ground Clearance

2.5"

Front Wheel Size

6"

Rear Wheel Size

7"

Wheel Type

3-Wheel

Frame Type

Folding
Warranty
Frame: 36 Months

Powetrain: 24 Months

Electronics: 12 Months
Battery: 12 Months