Description
Golden Technologies recognizes that "One size does not fit all." We've expanded our classic Comforter Series, with wider seating areas and greater lifting capacities — 375, 500 and 700 lbs. — the highest in the marketplace. Most of the five lift/recliners in this series use two heavy-duty motors for strength and support, with a three position style recline mechanism.
Features
Featuring Patented MaxiComfort recline technology, the world's only two motor power lift and recline chair with our adjustable active seat option.
MaxiComfort recline options include TV Watching, Zero Gravity, Sleep, and Trendelenburg.
Offering Autodrive with programmable memory settings (Not Available on the M26)
Optional Power Pillow for powered head and neck comfort
Weight Capacity: 300lbs to 500lbs
Limited Lifetime Warranty; wood and metal
7 Year warranty; motor and electronics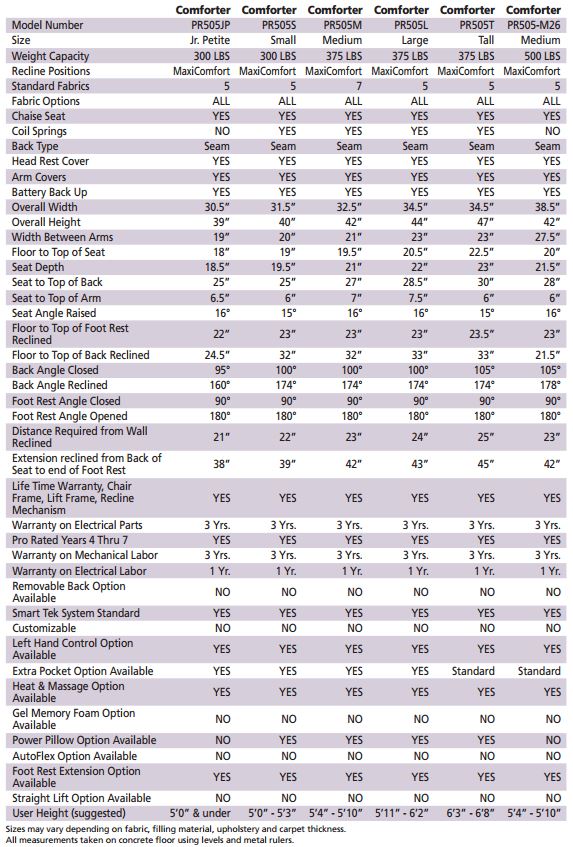 Description
Golden Technologies has perfected comfort. With the development of our exclusive, patented MaxiComfort positioning technology, Golden delivers the most advanced lift and recline chair available anywhere in the world! 
When you slip into a MaxiComfort chair, your body is transported into a blissful, relaxed state. These chairs offer optimal comfort positions that promote health, wellness and relaxation for both your body and your mind. Have a seat and discover for yourself why MaxiComfort lift and recline chairs are the world's most comfortable.
The MaxiComfort system transfers you effortlessly and smoothly through multiple lift and recline positions. The most common are the TV Watching, Sleep, Zero-Gravity and Trendelenburg positions. MaxiComfort is the only seating system that gives you this many recline features and lifts you to the standing position, all at the touch of a button. 
The MaxiComforters feature a plush, seamed backrest with lumbar support, a soft, comfortable seat and our unique "grip rite" arm design. Every MaxiComforter comes standard with  our patented MaxiComfort Ultimate Recline Technology for correct spinal alignment, back pressure relief and improved circulation. 
Features
Small/Medium/ Large/ Tall has the option for Exclusive Power Pillow Articulating Headrest for powered head and neck comfort
PR-505M (Medium) In-Stock Palimino includes Heat & Massage
Zero-Gravity and Infinite Positioning Lift Chair

Dual Motors

Full recliner easily positions feet above heart

With just a touch of a switch, the Maxi-Comforter effortlessly raises you into a safe, secure standing position.

Northern maple frame is reinforced and double-doweled at stress points for long, trouble-free life.

Heavy gauge tubular steel lift mechanism (Lifetime Warranty)

Improved filler materials crafted to create comfortable seating and eliminate sagging.

Reclines to Trendelenberg position.

Back up power source in case of local power failure.

Single switch hand control with quick disconnect, requires only a light touch to raise or lower the chair.

Extra long arm covers and head cover included.

Full chaise lounge padding provides luxurious comfort from head to foot. Not only does this feature give unmatched comfort, but also works as a safety feature by eliminating the space between the end of the seat and the top of the footrest.

Warranty:  Lifetime Chair Frame, Lift Frame, and Recline Mechanisms, 3-Year Electrical Parts, 1-Year Mechanical Labor, 1-Year Electrical Labor