The Titan TP-Pro Alpine massage chair has the most advanced massage technology in the Titan Chair line up. There are many high end features that make the Titan TP-Pro Alpine massage chair a great purchase for any home or office. The Pro Alpine comes equipped with Zero Gravity, Mechanical Foot Rollers, Air Compression massage, Body Scan Technology, easy to use remote, and much more.
The TP-Pro Alpine's innovative L-Track massage function provides support to both your neck and back, especially the lumbar area. Rollers in this track start in your neck and follow the full extension until the buttocks. Inspired by NASA technology, the Alpine's zero gravity position is the perfect position to enjoy a massage, aligning your back relative to your thigh at an optimal level of comfort. When reclined into the zero gravity position, the complete weight of your back is virtually supported by the backrest which maximizes the intensity of the massage. There are the stages of zero gravity, the 2nd being more server in pitch, relative to the seat base.

Equipped with the latest technology, the Pro Alpine allows for the rollers to map the back curvature with even more accuracy, which translates into a more precise massage hitting all the key areas. Regardless of your body type, this highly advanced chair will self-adjust making each massage experience feel customized.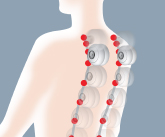 The TP-Pro Alpine remote helps the user easily visualize what functions the chair has activated. There is also a flip down cover to access the manual functions of the chair. The remote allows you to select the massage type, intensity, speed and location.
Air intensity adjustment - The air intensity of the air bags can be controlled up to 5 levels, from mild to strong.
3 levels of intensity for the massage - The roller heads that apply the massage to the back, can be extended outwards causing the rollers to press more firmly along the back. This will result in a more vigorous massage.
Massage speed control - The speed in which the massage heads move can be controlled up to 3 different speeds, ranging from slow to fast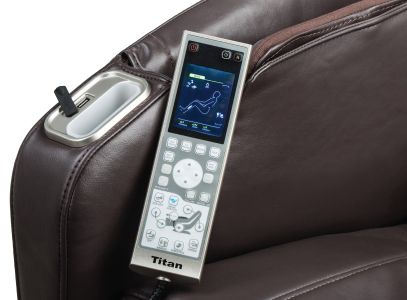 Features
New Arm Design
L-Track Roller Design for Under Buttocks and Glutes
Space Saving Feature
Zero Gravity Position
Bluetooth Speaker Connection and App
Foot Rollers
Shiatsu, Kneading, Tapping, Combo
Memory Function
Specifications
| | |
| --- | --- |
| Model | Titan TP-Pro Alpine |
| Rated Voltage | 110-120V |
| Rated Frequency | 50/60 Hz |
| Dimensions (L x W x H) | Main Body: 51" x 29.5" x 32" |
| Gross Weight | 280 lbs |
| Auto Timer | 10-20 minutes |
Warranty
1st Year - Parts & Labor
2nd & 3rd Year - Parts Only