Description
Enjoy endless relaxation with the Escape Collection from VivaLift® Power Recliners. Power lumbar offers personalized comfort and a full-width power headrest lifts your head, neck and shoulders. A convenient remote with USB charger lets you power your smart device, and the industry-first lithium battery backup ensures your lift chair functions when the power goes out. With an array of gorgeous fabrics, it's an easy decision to make this fabulous collection a part of your home.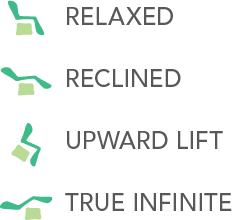 INDEPENDENT FUNCTIONS
1. The power headrest lifts your head, neck and shoulders for maximum support.
2. The upward lift offers convenient stand assist for getting in and out of the recliner.
3. The power lumbar enables you to personalize your comfort.
4. The footrest extension allows you to relax and stretch out completely.
5. The backrest moves up and down independently to help you find the perfect position.
6. True Infinite position recline enables the backrest and footrest to move independently from one another so that a variety of positions can be reached.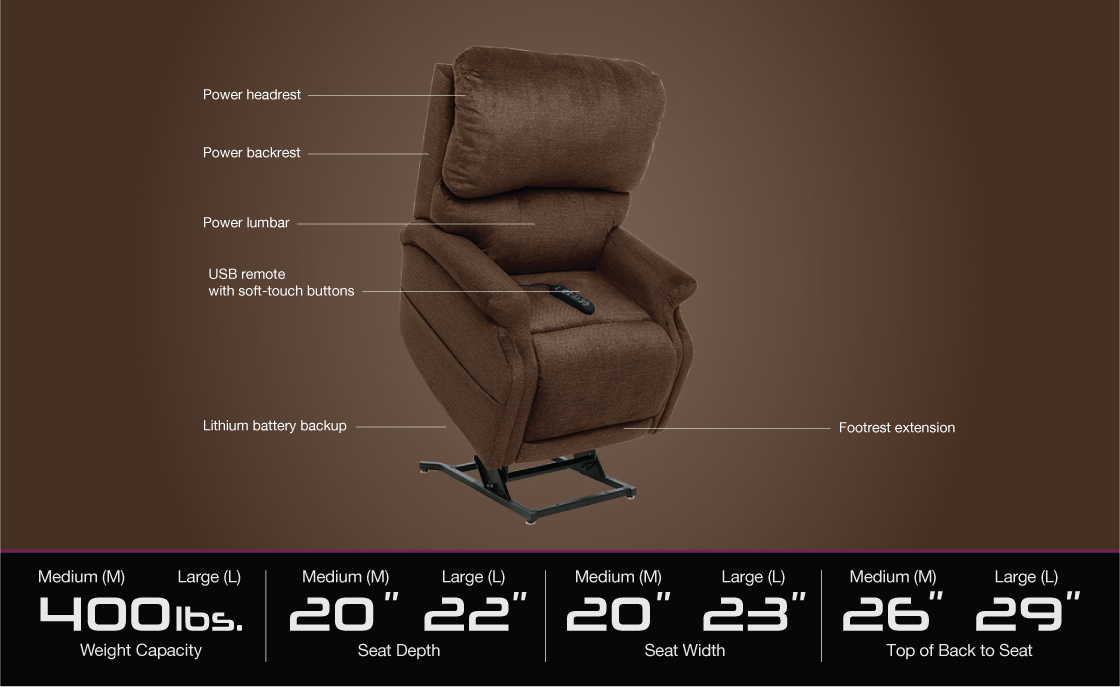 STANDARD FEATURES
7. The USB remote adjusts all functions independently and allows you to charge your smart device.
8. Lithium battery backup ensures your recliner is operational when the power goes out
Specifications 
 

PLR-990iM Medium

PLR-990iL Large

Height of User:  

 5'4" - 6'0"

5'7" - 6'2"

Chair Weight:  

 148 lbs.

150 lbs.

Chair Height:

44.5"

47"

Recline Positions:  

True-Infinite Position

Zero Gravity

Trendelenburg

Chaise Lounger

True-Infinite Position 

Zero Gravity

Trendelenburg

Chaise Lounger

Seat Width:  

 20"

23"

Weight Capacity:  

400 lbs.

400 lbs.

Top of Back to Seat:  

 26"

29"

Seat-To-Floor:  

20"

20"

Distance From Wall:  

18"

21"

Fully Padded Chaise:  

 Yes

Yes

Seat Depth:  

 20"

22"

Overall Chair Width:  

 33"

36.5"

Footrest Extension:

Standard

Standard

Seat Type:

Pocketed Coil Springs

Pocketed Coil Springs

Overall Width:

33"

36.5"
Meeting and Exceeding High Standards for your Peace of Mind.
Your Pride product has undergone thorough product testing to ensure safety, durability and performance.
Our power chairs, scooters and lift chairs are Food & Drug Administration (FDA) approved medical products that require specific testing prior to release for public use.
The testing requirements accepted by the FDA were developed by the American National Standards Institute/Rehabilitation Engineering & Assistive Technology Society of North America (ANSI/RESNA).
The tests are conducted in accordance with the requirements of the ANSI/RESNA Test Standards and complement an additional stringent testing regiment developed by Pride's Research & Development Team.
All products have passed, and in many cases, exceeded test criteria set forth, assuring the high level of quality synonymous with Pride.
Some of the items our testing criteria include are:
Product Stability & Brakes Effectiveness Tests
Fatigue & Impact Strength Verification Tests
Overall Product Performance Verification
Dimensional Requirement Compliance
Product Durability & Reliability Testing
Material Protective Coating Testing Verification
Misuse and Abuse Testing
Ergonomic Verification
Environmental Testing for Adverse Weather Operation Conditions
Electronic Systems Performance and Durability
Chemical and Bio-Contamination Analysis Testing for Toxicity Verification
Cal 117 Flammability Test Compliance for Seating Foam and Fabric Components
UL94VO Flammability Testing for Compliance of Plastic Components
Electromagnetic Compatibility (EMC)
Warranty
*Pride FDA Class II Medical Devices are designed to aid individuals with mobility impairments