The Amtryke Tadpole is a full featured recumbent tricycle based on two forward wheels and a single drive wheel to the rear. This design results in a very stable and responsive tryke. Comes with a FREE helmet.
Features
20" front and rear wheels with 1.75" wide road tread pneumatic tires

Chromoly frame with medium height seating for easy rider transfer

Low center of gravity provides added stability

Triple crank gives a wide range of gears

Dual front disk brakes

Cool mesh sling seat with removable foam seat and back cushions and built-in lap and chest straps.

Safety helmet
Leg length: 36-45 in.

Arm length: 17-29 in.

Height: up to 75 in.

Max weight: 300 lbs.

16" from ground
The  Amtryke  Tadpole,  the  TP-3000,  is  a  full  featured  recumbent tricycle based on two forward wheels and a single drive wheel to the rear.  This  design  results  in  a  very  stable  and  responsive  tryke.  Two front wheels steer the bike and provide braking with a pair of hand operated disk brakes. The rider rests comfortably in the fully adjustable  sling-style  seat.  Pedal  boom  can  be  shortened  or  lengthened to  accommodate  riders  of  different  heights.  Comes  in  Amtryke  red.  Expert assembly required.

The  single  rear  drive  wheel  gives  good  traction,  and  features  dual  derailleurs for 21 speeds – with three chain rings in the front and a rear derailleur.  The gears are selected with a simple twist grip shifters.  The  handles  are  oriented  horizontally  –  parallel  to  the  ground.  This provides a relaxing hand position, it also makes entry and exit off the tryke easier. Just set the parking brakes and use the handles for leverage.
This superior road tryke for higher functioning riders is a true delight to ride.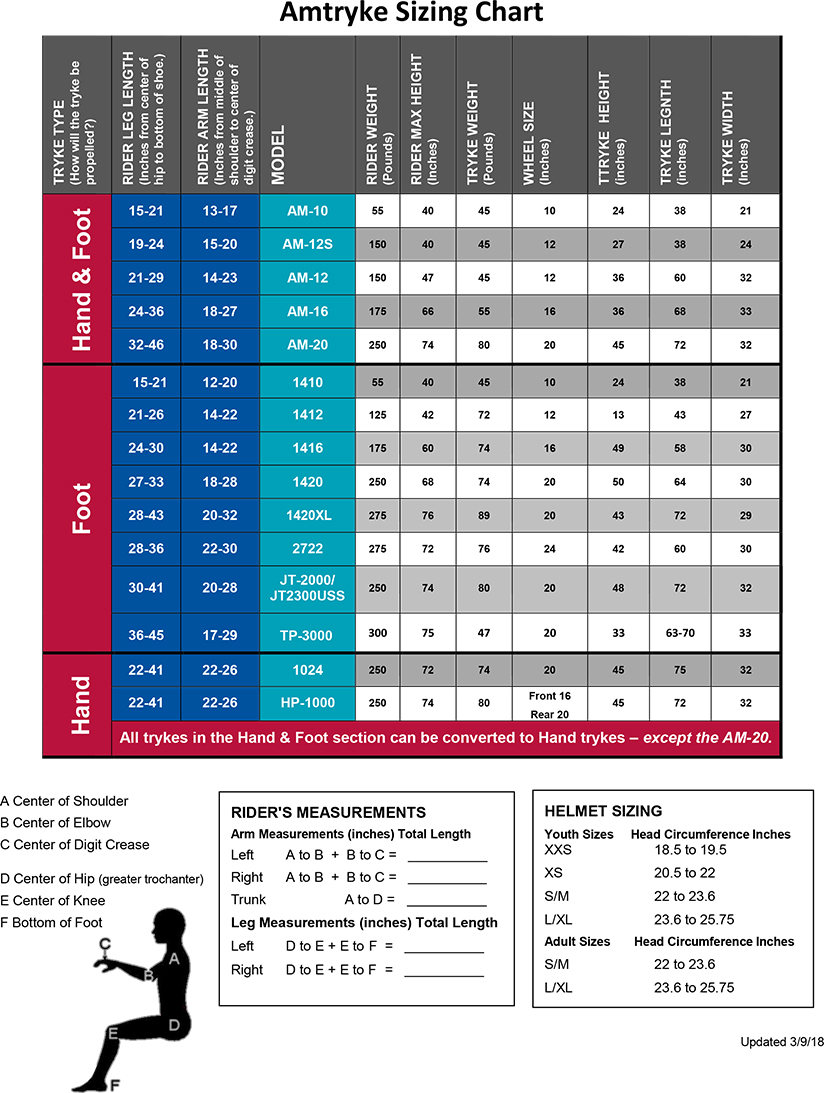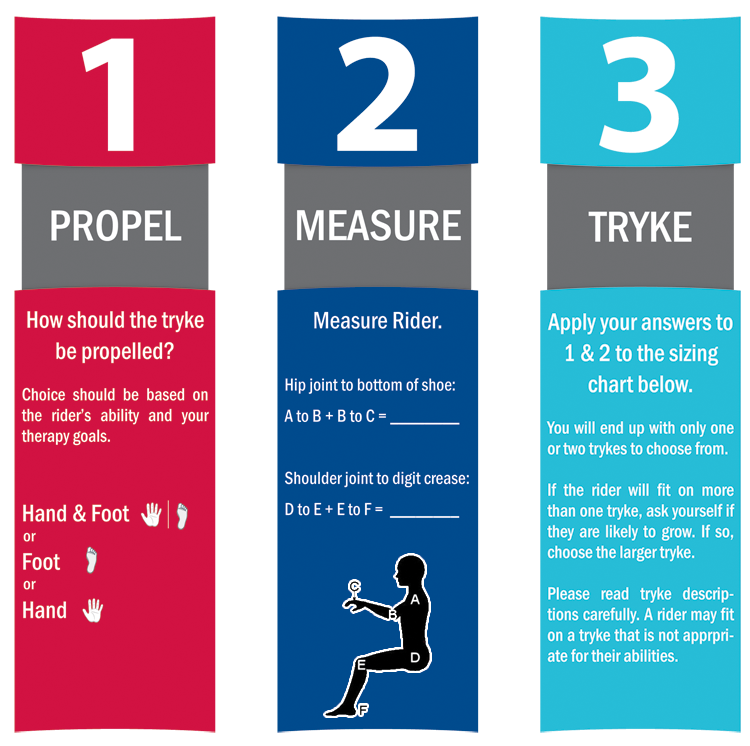 Measuring Tips: The leg measurement is on the outside of the leg (not the inseam), from the hip joint to the floor—with the shoe on.
If you have trouble finding the hip joint, ask the rider to squat a bit or sit down. The fold between the torso and the leg is the point to measure.
For the arm measurement, by "digit crease" we mean the first set of knuckles (ones closest to rider's torso).
Measure both arms and also both legs, there may be a difference. If there is, use the shorter measurement.
Exercise Pedals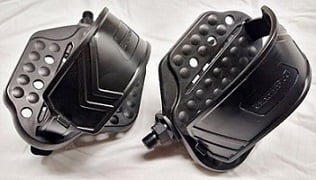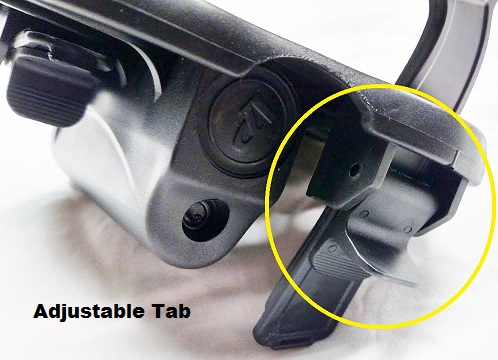 9/16 inch axle exercise pedals provide riders that need a little assistance in keeping feet on pedals. Made with durable plastic with texture grip and wide adjustable strap so that riders can slip foot into pedal.
XL Exercise Pedals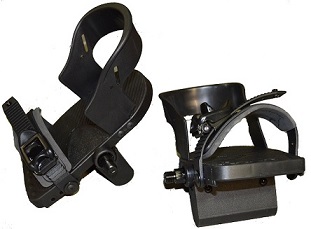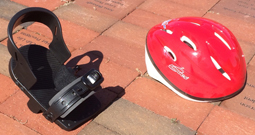 Exercise pedals with a rigid heel trap and adjustable front strap. 9/16" axle size only!
Expanding Pedals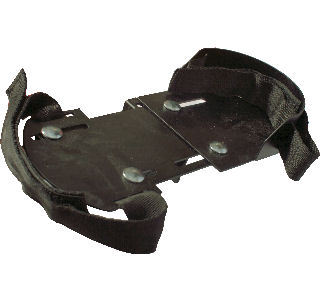 9/16" axle and lightweight durable plates with 1 1/2 inch heel trap, toe and instep straps. Plate adjusts from 7 inches to 10 inches in length to accomodate length of shoe for custom fit. 
Toe Clips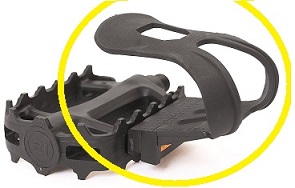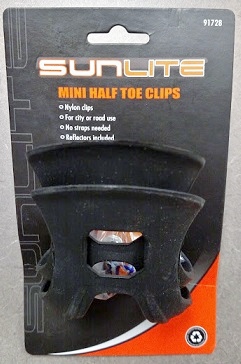 Pair of universal reflective toe clips for city or road use. Helps keep foot in line with pedal rotations.
Full Swivel Mirror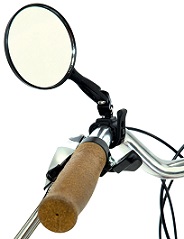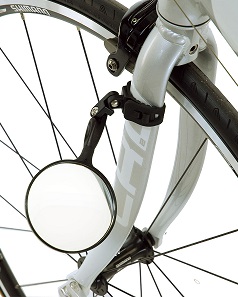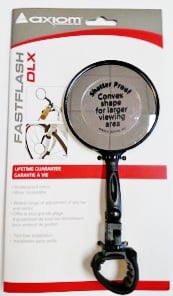 FastFlash DLX Universal Mirror offers both a swivel design and mounts almost anywhere (we prefer the handlebars, ourselves). Swivel design is perfect for recumbent riders
Flag with Amtryke Logo and Bracket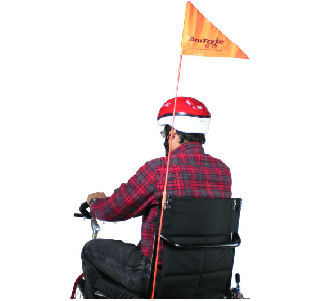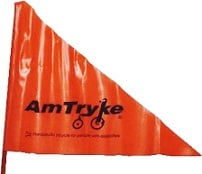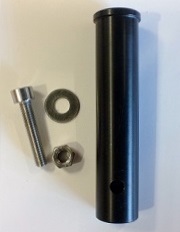 Orange flag with logo and 2 piece vertical rod and black plastic mounting grommet for use on Amtrykes models.
License Plate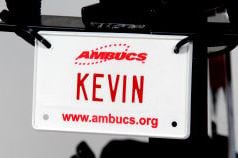 License Plate with red letter Decals. Personalize your tryke with a license plate.
10 oz Water Bottle with Holder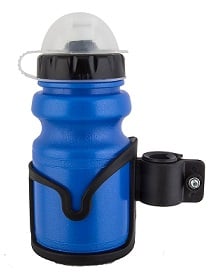 10 oz Water bottle with Holder. This can be mounted on any section of tubing 3 inches in circumference of smaller. The 10oz water bottle comes with a rubber cage to attach it.