Exciting new addition to the ProSeries features: Longer frame allows riders up to 6'4". This is our first adult sized tryke with full trunk support. Heavy duty tires, rims and spokes to increase the rider weight capacity. Dual rear hubs - easily switch between fixed or freewheel drive. Comes with a FREE helmet.
The ProSeries 1420-XL fixed drive tryke provide full support for riders. Particularly helpful for those with low tone and/or trunk control. They can be adapted to meet a wide range of needs. Available in Amtryke red. Assembly required.
Features
Rolled steel frame features two hand-ratcheting levers which allow the sliding seat post to move closer or further from the front and the frame to dismantle for easy transport

Low center of gravity provides added stability

Fixed drive helps rider make a full pedal rotation

Quick-release cam levers allow the telescoping handlebars to be positioned at any height or distance to the rider

Safety steering limiter pin for three graduated steering options: straight, 20 degrees left/right, free steering

Linear caliper hand brake

Four seat post positions and a sliding seat post accommodate many leg lengths

1400 Seat Back can be positioned up/down and comes with highly adjustable laterals and chest strap

Expanding pedals with two straps can adjust from 7 to 10 inches with foot pronate & positioning are also adjustable

Pedal leveler pulley helps keep feet in optimal riding position

Loading brake for easy rider transfer

Steel wire basket

20 inch wheels with pneumatic tires 

Frame extended to accommodate riders up to 6'4"

Pedals (on 1420XL only) extend 9 ¾ - 12 3/8 inches; Expanding Pedals (Expanding pedals can be customized to fit and secure most foot sizes.)

Handlebars (Quick-release cam levers allow the telescoping handlebars to be positioned at any height or distance to the rider)

Ratcheting Levers (Two hand-ratcheting levers which allow the sliding seat post to move closer or further from the front)

Safety helmet
Specifications
Leg Length: 28-43 in.

Arm Length: 20-32 in.

Height: 44-76 in.

Max weight: 275 lbs.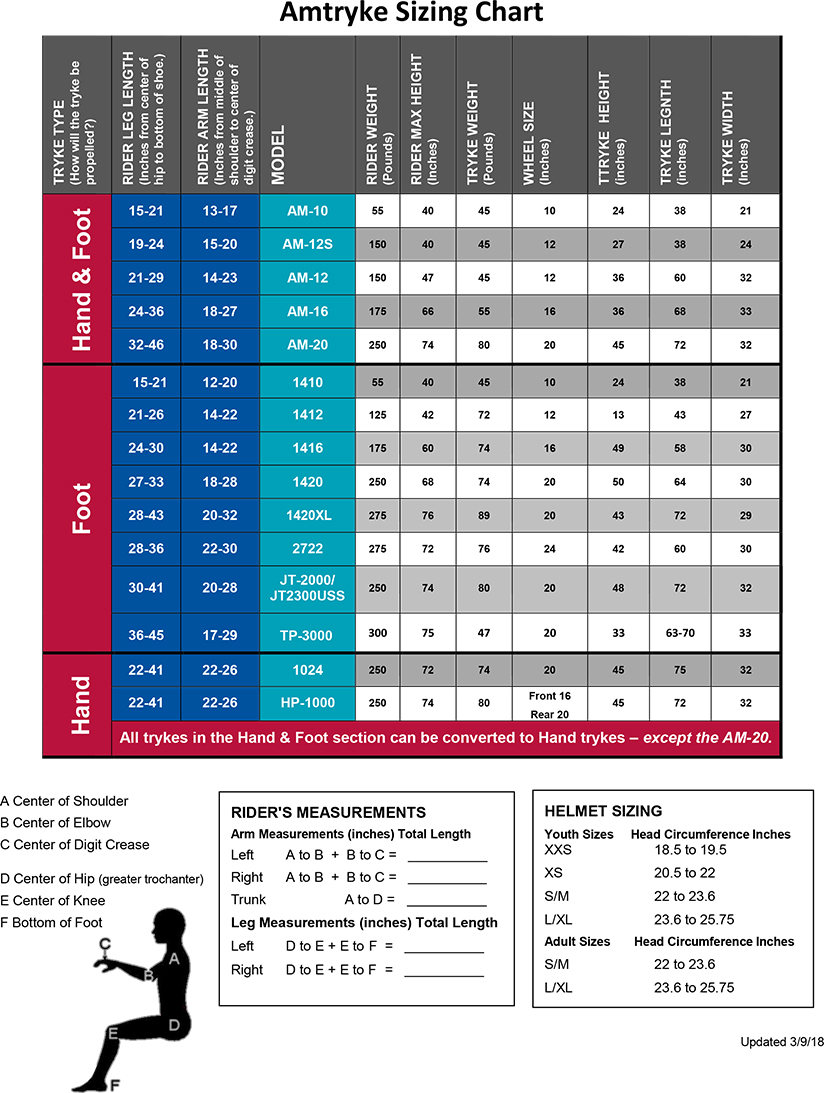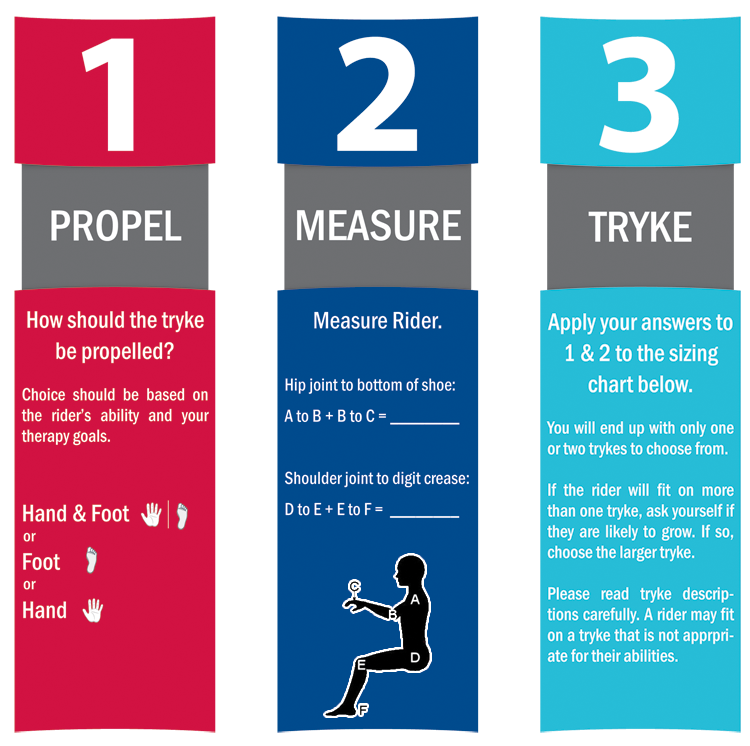 Measuring Tips: The leg measurement is on the outside of the leg (not the inseam), from the hip joint to the floor—with the shoe on.
If you have trouble finding the hip joint, ask the rider to squat a bit or sit down. The fold between the torso and the leg is the point to measure.
For the arm measurement, by "digit crease" we mean the first set of knuckles (ones closest to rider's torso).
Measure both arms and also both legs, there may be a difference. If there is, use the shorter measurement.
Tractor Saddle Seat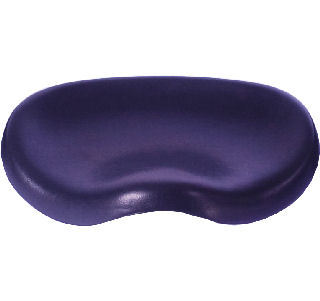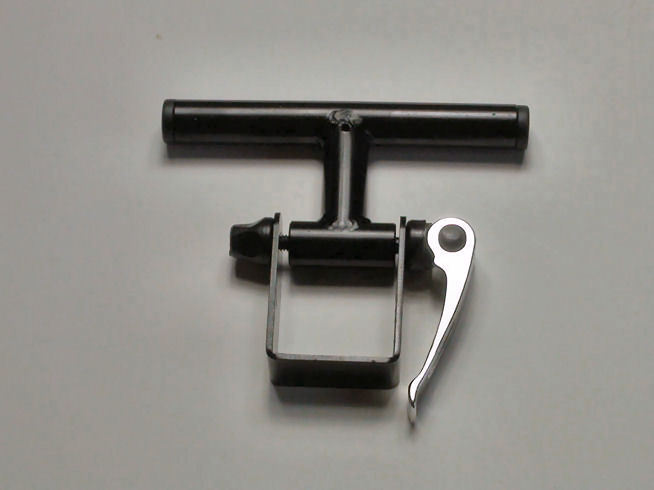 The tractor seat provides a large contoured area for stable seating in easy-clean polypropylene. It measures 14" inches wide by 9" inches deep. 
Pommel Saddle Seat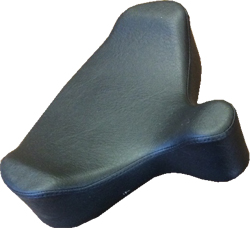 These highly contoured seats feature high sides and a built-in pommel. Helps prevent hip sublimation; promotes knee separation and a feeling of security. Much softer than a standard saddle seat. Medium pommel saddle seat measures 11.5" inches wide by 10.5" inches deep with a 3" inch pommel. Large size measures: 14 inches wide by 13 inches deep with a 3 inch pommel.
Wheelchair Seat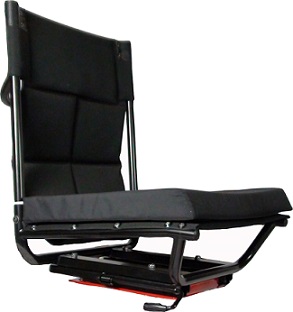 Wheel Chair Seat measures 18" Wide by 16" Deep. Seat Back 18" Wide and 16" Tall. Please note that this particular seat does not have the mounting holes for Swingaway Arms or Bar Ends.
Simple Seat Back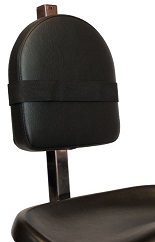 This 9 inch by 10 inch padded seat back with 1 chest strap is a good option for those who have no trouble maintaining an upright seated position. 
Full Padded Seat Back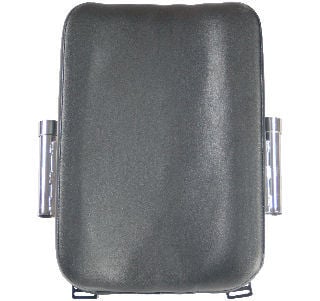 The full padded back provides additional trunk support for riders with low muscle tone. Replaces the small padded seat back that is standard on the Seat Back system. Comes with brackets for mounting the lateral supports and/or optional H-Harness. Measures 10 inches wide by 15 inches tall.
Push Bar with Bracket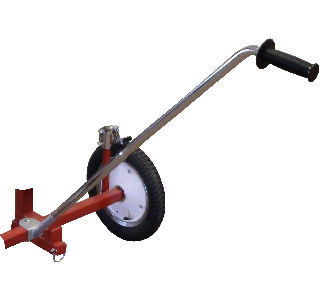 Push Bar W/Bracket. Optimal height for use of push bar is 36 inches from handgrip to ground. The push bar is used only for assisting in movement of the AmTryke therapeutic tricycle. It is designed to save parents or therapists from bending over when assisting a rider on the tryke. It is not intended to provide leverage for raising or lifting the tryke. Installation of the push bar on the rear frame of the AmTryke is with a  bracket for either Snappy, AM-12 and AM-16 OR the ProSeries models. Please select the model of tryke for correct mounting bracket.
Rear Steering Kit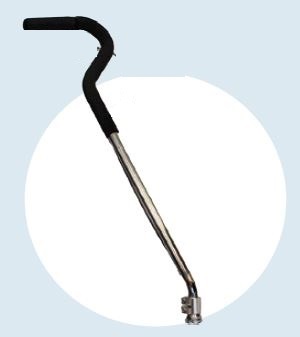 Seat Back System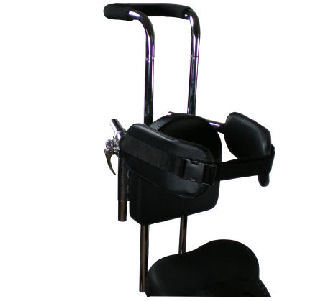 The Seat Back System is a versatile seat back that uses a double tube support system. The padded back measures 8 inches wide by 10 inches tall and can be adusted by large knobs up/down the double tube. Quick release cam lock levers allow the 2 removable padded lateral supports adjustments up/down, forward/back and swing in/out. A strap secures lateral supports in front of rider. Features built in push grip for caregiver or parent. The 1400 seat back system can be adapted with other accessories to provide more trunk support. This seat back system does not include a seat but can be used in conjunction with a saddle seat, bench seat, and tractor saddle seat.
Lumbar Pad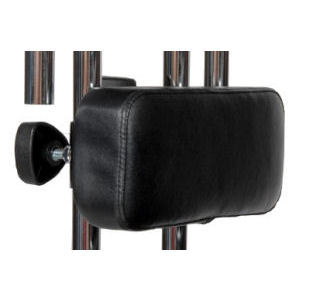 This adjustable pad provides additional support for the 1400 Seat Back System. The pad measures 9 inches wide by 4 inches tall. It can be positioned below the standard seat back pad as a lumbar support or on top of the standard seat back pad as a head pad. The pad can be adjusted up/down the  double tube supports and can also be adjusted forward/back.
8" or 11.5" H-Harness

H-harness 8 inch or 11.5" provides additional trunk support for riders with low muscle tone. 
Head Rest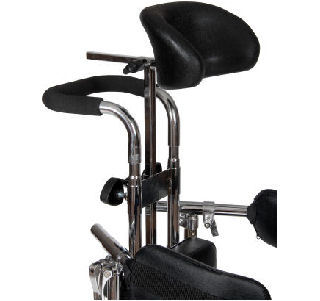 This contoured head rest is easy to mount and easy to adjust. The head rest can be adjusted up/down and forward/back for optimal positioning.
Wrist Wraps Available in 4 sizes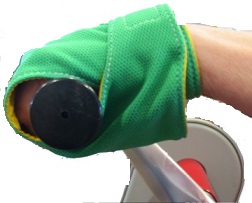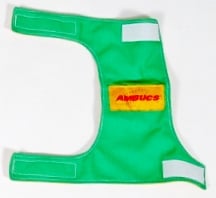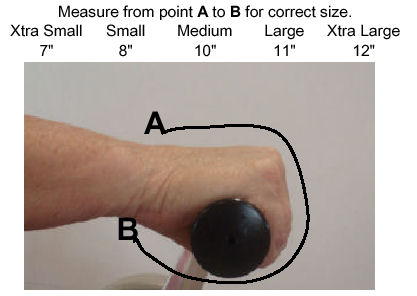 Size Range: XSmall - Large. Includes one pair. Wrist wraps help maintain riders hold on hand grip. Pair of soft washable cloth wraps secure around wrist with hook and loop closure. Sizes are determined by the measurement from A. top side of wrist around hand to the B: bottom side of wrist.
Wrist Brace Holding Mitt Available in 5 Size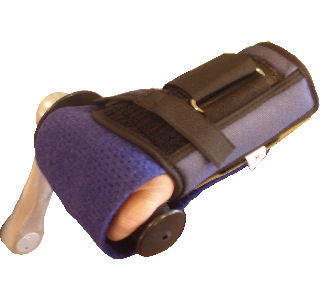 XXS, XS, S, M, XL - [Large has been discontinued]. Size is Wrist Circumference. This is a combination of a wrist brace and a holding mitt. The wrist brace holding mitt helps maintain hold on the handgrip while providing wrist stability. Durable padded material for maximum wear and comfort. Measurement is wrist circumference.
5" Hi-Rise Handlebars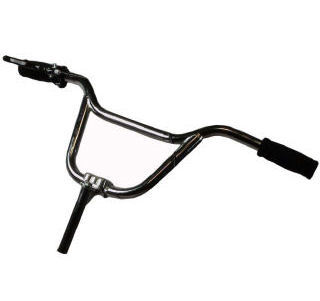 Includes MX-FreeStyle Handlebar and MX-FreeStyle Grips.
12" Hi-Rise Handlebars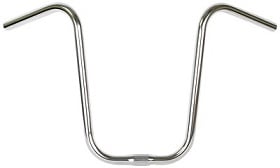 Some riders prefer these traditional style handlebars, especially those who do not need help with hand positioning. Comes with handlebar grips.
Footcup Assembly - Small or Medium Pair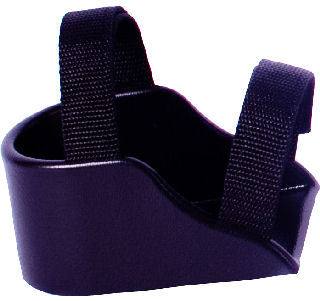 Pair of Small Footcups. Molded from durable plastic. Small foot cups fit children approximately 1 to 3 years of age.
Pedal Block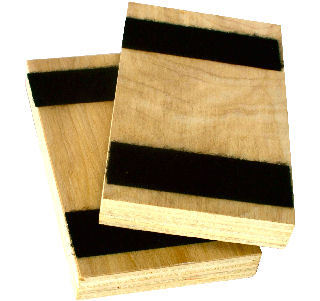 Pedal Spacer Block. Please note each block is sold individually. Picture shows 2 blocks; a typical order placed by customers. Each block measures 3.25 x 3.5 inches. Lightweight 3/4 inch wooden blocks are used to adjust for leg length differences or as an aid to help rider reach the pedal. Hook and loop securely position blocks on foot plate. Note: using more than one pedal block will lose the heel trap on the foot plate, so foot cups would be recommended. Maximum 3 blocks per side. Sold Individually.
Exercise Pedals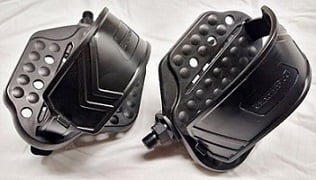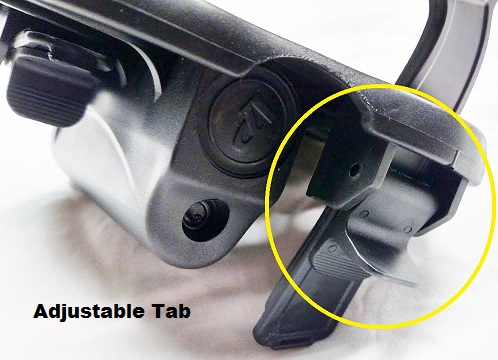 9/16 inch axle exercise pedals provide riders that need a little assistance in keeping feet on pedals. Made with durable plastic with texture grip and wide adjustable strap so that riders can slip foot into pedal.
Knee Separator 2" or 5"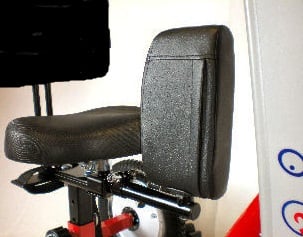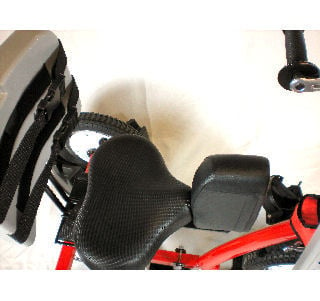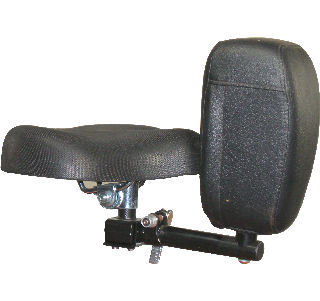 2 inch or 5 inch wide pad with 6" Tube.
Knee Adductor Positioning Strap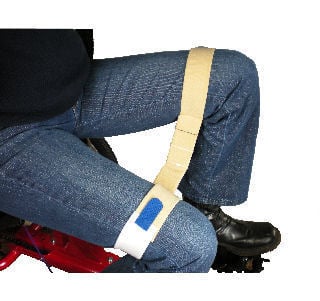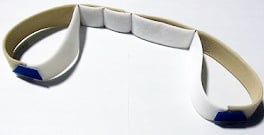 Hook and loop strap designed for riders who need help keeping their legs in proper alignment over the pedals. Available in 3 sizes: small, medium, large. Sizing is the circumference of the thigh just above the knee. 
The Size is based on the leg circumference just above the knee.
Safety Flag with Amtryke Logo and Bracket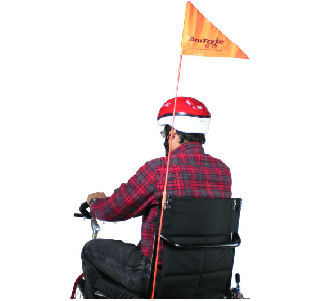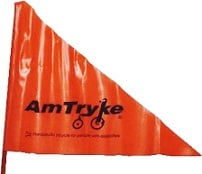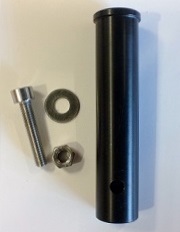 Orange flag with logo and 2 piece vertical rod and black plastic mounting grommet for use on Amtrykes models.
License Plate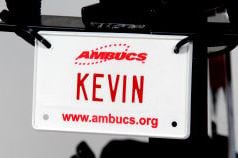 License Plate with red letter Decals. Personalize your tryke with a license plate.
10 oz Water Bottle with Holder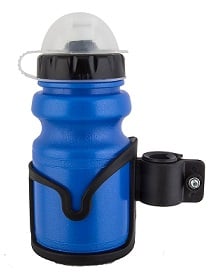 10 oz Water bottle with Holder. This can be mounted on any section of tubing 3 inches in circumference of smaller. The 10oz water bottle comes with a rubber cage to attach it.