Full Padded Seat Back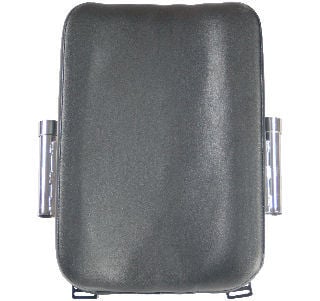 The full padded back provides additional trunk support for riders with low muscle tone. Replaces the small padded seat back that is standard on the Seat Back system. Comes with brackets for mounting the lateral supports and/or optional H-Harness. Measures 10 inches wide by 15 inches tall.
Bucket Seat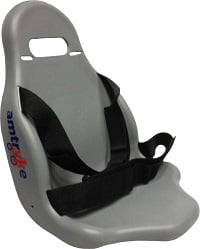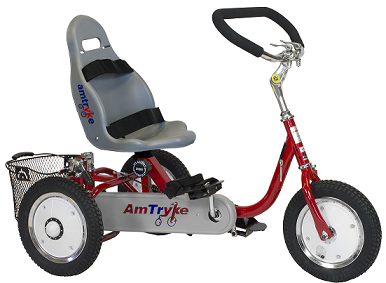 Molded Plastic Bucket Seat.
Rear Steering Kit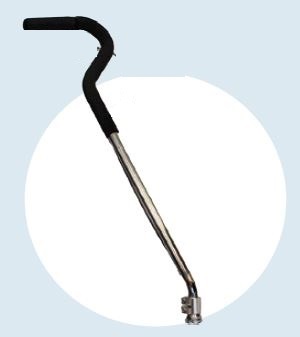 Seat Back System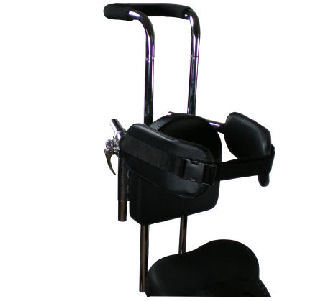 The Seat Back System is a versatile seat back that uses a double tube support system. The padded back measures 8 inches wide by 10 inches tall and can be adusted by large knobs up/down the double tube. Quick release cam lock levers allow the 2 removable padded lateral supports adjustments up/down, forward/back and swing in/out. A strap secures lateral supports in front of rider. Features built in push grip for caregiver or parent. The 1400 seat back system can be adapted with other accessories to provide more trunk support. This seat back system does not include a seat but can be used in conjunction with a saddle seat, bench seat, and tractor saddle seat.
Lumbar Pad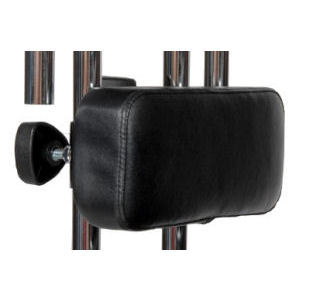 This adjustable pad provides additional support for the 1400 Seat Back System. The pad measures 9 inches wide by 4 inches tall. It can be positioned below the standard seat back pad as a lumbar support or on top of the standard seat back pad as a head pad. The pad can be adjusted up/down the  double tube supports and can also be adjusted forward/back.
8" or 11.5" H-Harness

H-harness 8 inch or 11.5" provides additional trunk support for riders with low muscle tone. 
Head Rest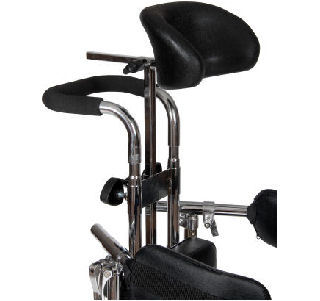 This contoured head rest is easy to mount and easy to adjust. The head rest can be adjusted up/down and forward/back for optimal positioning.
Wrist Wraps Available in 4 sizes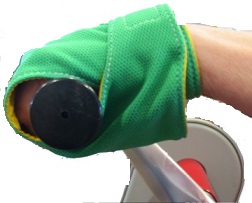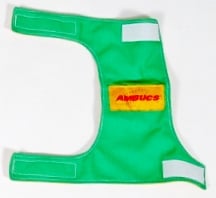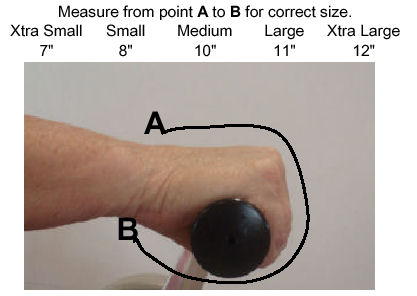 Size Range: XSmall - Large. Includes one pair. Wrist wraps help maintain riders hold on hand grip. Pair of soft washable cloth wraps secure around wrist with hook and loop closure. Sizes are determined by the measurement from A. top side of wrist around hand to the B: bottom side of wrist.
Wrist Brace Holding Mitt Available in 5 Size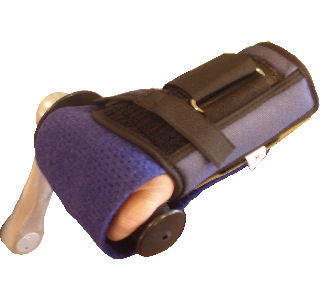 XXS, XS, S, M, XL - [Large has been discontinued]. Size is Wrist Circumference. This is a combination of a wrist brace and a holding mitt. The wrist brace holding mitt helps maintain hold on the handgrip while providing wrist stability. Durable padded material for maximum wear and comfort. Measurement is wrist circumference.
5" Hi-Rise Handlebars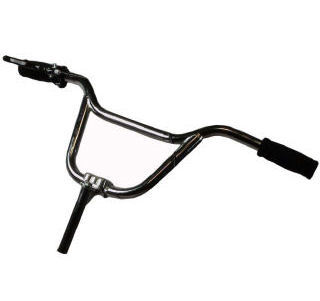 Includes MX-FreeStyle Handlebar and MX-FreeStyle Grips.
12" Hi-Rise Handlebars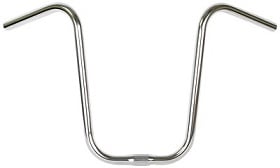 Some riders prefer these traditional style handlebars, especially those who do not need help with hand positioning. Comes with handlebar grips.
Footcup Assembly - Small or Medium Pair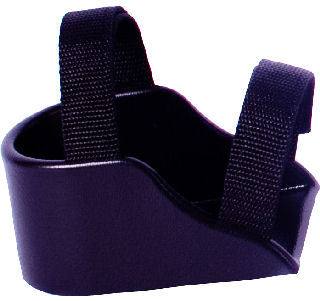 Pair of Small Footcups. Molded from durable plastic. Small foot cups fit children approximately 1 to 3 years of age.
Pedal Block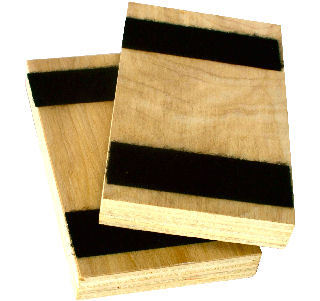 Pedal Spacer Block. Please note each block is sold individually. Picture shows 2 blocks; a typical order placed by customers. Each block measures 3.25 x 3.5 inches. Lightweight 3/4 inch wooden blocks are used to adjust for leg length differences or as an aid to help rider reach the pedal. Hook and loop securely position blocks on foot plate. Note: using more than one pedal block will lose the heel trap on the foot plate, so foot cups would be recommended. Maximum 3 blocks per side. Sold Individually.
Exercise Pedals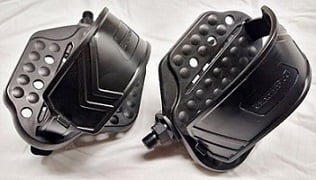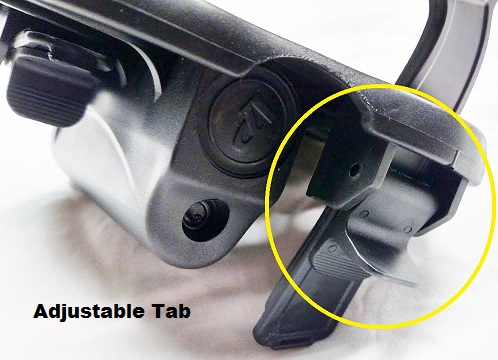 9/16 inch axle exercise pedals provide riders that need a little assistance in keeping feet on pedals. Made with durable plastic with texture grip and wide adjustable strap so that riders can slip foot into pedal.
Knee Separator 2" or 5"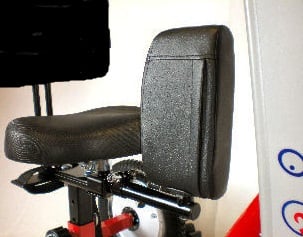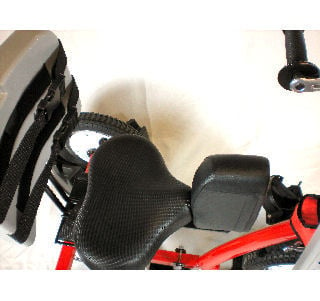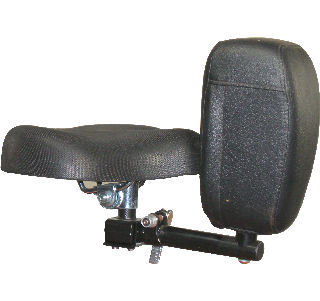 2 inch or 5 inch wide pad with 6" Tube.
Knee Adductor Positioning Strap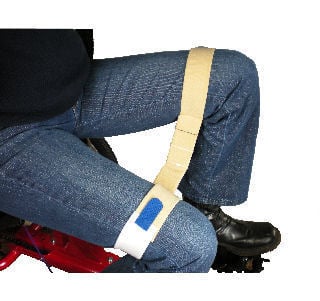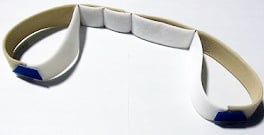 Hook and loop strap designed for riders who need help keeping their legs in proper alignment over the pedals. Available in 3 sizes: small, medium, large. Sizing is the circumference of the thigh just above the knee. 
The Size is based on the leg circumference just above the knee.