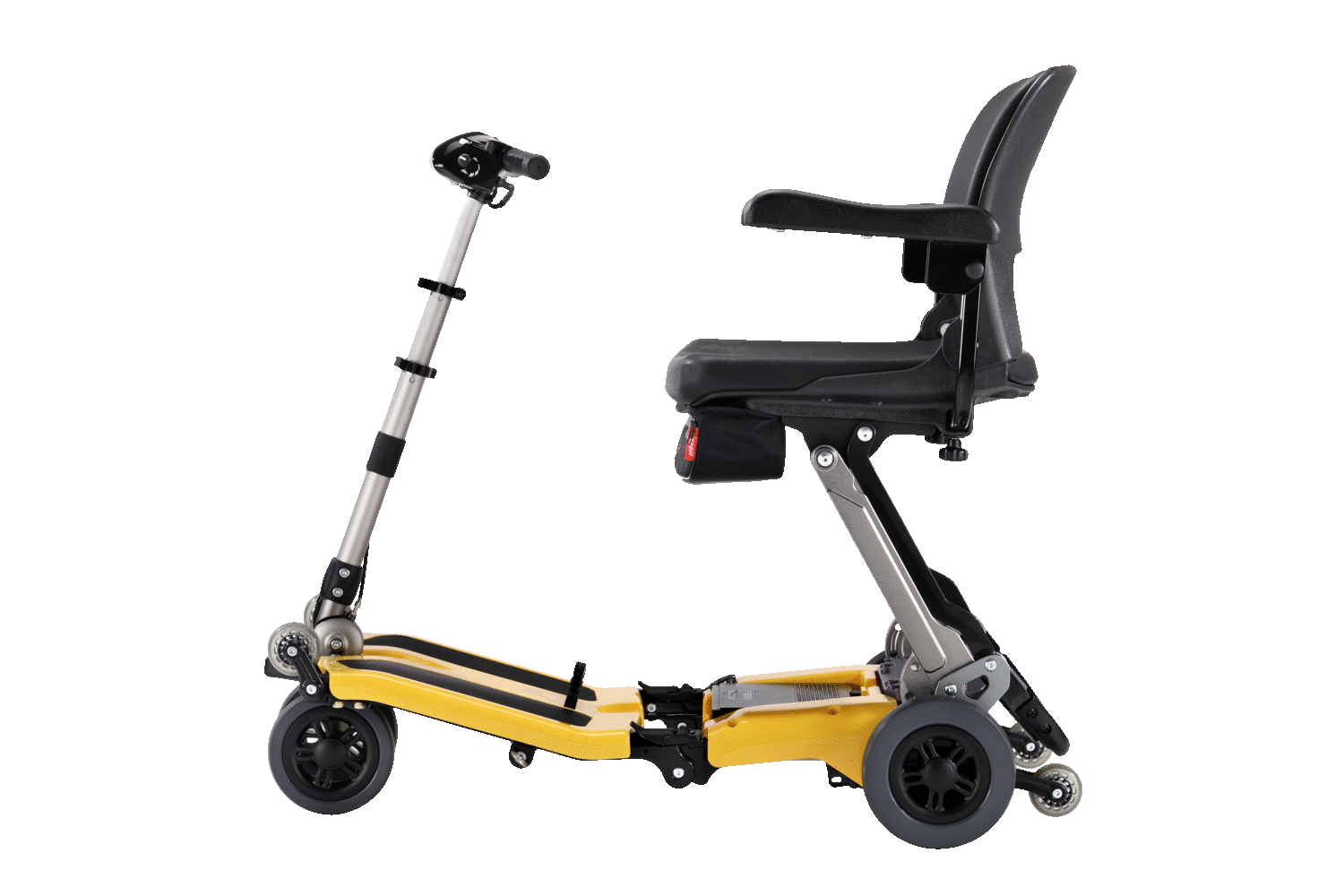 The Luggie Classic is a light weight and compact travel scooter designed by FreeRider. Weighing only 50 lbs. by itself and 70 lbs. with the battery, the Luggie Classic comes with a 15" foldable seat capable of supporting up to 250 lbs. The Luggie Classic is very quick and great on maneuvering. Going as fast as 4 mph The Luggie Classic takes turns at a radius of 40" and can last as long as 13 miles before a charge is needed again. 
Designed to effectively enhance mobility, the Luggie is easy to operate even inside elevators or other small spaces. The unique light weight, direct folding design make the Luggie ideal for travel and storage. The Luggies smart folding system makes it the world's most compact Folding Mobility scooter, and the folding and unfolding really is as easy as it looks. The Luggie lightweight mobility scooter can be taken onboard trains, planes, buses, cruise ships, trams and pretty much anywhere else you can think of.
NOTE: ON THE CLASSIC MODEL, THE BATTERIES NEED TO DISCONNECTED FROM THE SCOOTER AND REMOVED IN ORDER TO FOLD THE SCOOTER. THIS IS NOT THE CASE FOR THE STANDARD, DELUXE OR THE ELITE MODELS SINCE BOTH OF THEM HAVE SMALL LIGHTWEIGHT LITHIUM BATTERIES.
Features
Weight Capacity: 250 lbs.

PU non-scuffing tires.

Auto-connecting front to rear cable.

Front frame-mounted seat post offers maximum stability.

Modular design for easy serviceability.

Convent off-board dual voltage charger can charge battery pack on-board or off-board.

Black color

SLA Battery Pack

Luggie can be upright without removing seat and installing bumper kit.

Luggie scooters can be carried by  airline or cruise.
Specifications
Weight Capacity

250 lbs.

Product Weight

68 lbs. (AGM batteries)

55 lbs. (Optional lithium ion battery)

Heaviest Piece

50 lbs.

Battery Weight

18 lbs. (15Ah AGM)

5 lbs. (Optional lithium ion battery)

Battery Type

15AH AGM

Optional 10.5AH li-ion

Optional 16.5AH li-ion

Maximum Speed

4 mph

Drive Range

13 Miles (15AH AGM)

15 Miles (10.5AH li-ion)

22 Miles (16.5AH li-ion)

Turning Radius

40"

Seat Width

15"

Seat Depth

15"

Overall Length

39"

Overall Width

18"

Ground Clearance

2.5"

Front Wheel Size

6"

Rear Wheel Size

7"

Wheel Type

4-Wheel

Frame Type

Folding
Warranty
3 Year limited chassis

2 Year limited electronics

2 Year limited drivetrain

13 Month limited on AGM batteries

18 Month limited on optional li-ion battery