Easy to transport as one piece or as two pieces
Description

Newly designed, ergonomic, portable & foldable, indoor & outdoor electric scooter! The Titan provides a unique combination of performance, comfort and portability. Experience its speed, comfort ride suspension and ease of transport. 

Allows you to keep an independent, spontaneous and active life.
Foldable and detachable in seconds without effort or bending!
Compact, highly maneuverable, allowing it to be transferred easily into a car, a bus, a train or a plane.
Ergonomic location of battery pack.
The Titan's battery packs are located in the back over the back wheels and are easily removed by simply lifting up. There are no latches, pins or wires for you to contend with.
The Titan3 is a scooter with High performance 3 wheel scooter with a weight capacity of 300 lbs. The (Two) High Performance battery packs play a large roll in performance delivering plenty of power at all times. Both battery packs are light weight and easily placed on and off the Titan3. 
Features
Weight Capacity: 300 lbs.
Max Speed: 6.8 mph.
Range up to: 19 miles
Scooter Weight: 141 lbs.
Weight Heaviest Piece: 51 lbs.
Turning Radius: 39"
Ground Clearance: 3.1"
Seat Width: 18.5"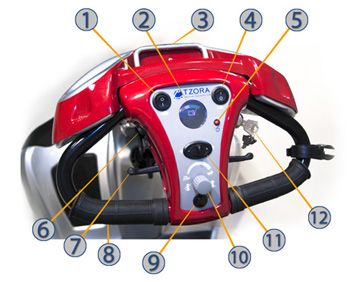 | | |
| --- | --- |
| 1 | Turtle / Rabbit Quick Flip Speed Switch |
| 2 | Battery Gage Indicator |
| 3 | Adjustable Tiller Lever. (Virtual Adjustment) |
| 4 | Halogen Head Light |
| 5 | Status Indicator LED |
| 6 | Hazard Lights |
| 7 | Throttle |
| 8 | Durable Rubber & Neoprene Hand Grips |
| 9 | High Frequency Horn |
| 10 | Full Range Speed Adjustment Dial |
| 11 | Full Light Package Controls |
| 12 | Keyed Ignition |
Specifications
| | | |
| --- | --- | --- |
| Carrying capacity: | 300 lbs | 136 kg |
| Length: | 55 inch | 139 cm |
| Width: | 24 inch | 61 cm |
| Height: | 38 inches | 97 cm |
| Total weight: | 141 lbs | 64 kg |
| Front frame: | 48 lbs | 22 kg |
| Rear frame: | 51 lbs | 23 kg |
| 26A/h battery x2: | 21 lbs each | 9.5 kg each |
| Battery Range: | up to 19 miles | up to 30 km |