This premium support surface offers outstanding comfort and pressure reduction. The floatation style design reduces lateral shear and distributes pressure evenly achieving mean tissue interface pressures below 32 mmHg. The heel section uses smaller cells to address the sensitive pressure reduction needs of the heels and ankles.
100% virgin polyurethane foam offers greater support and resilience than conventional polyurethane foams. Effective for the prevention and treatment of stage I pressure ulcers. Breathable Soflux nylon top cover moves with the patient to reduce shearing and is fluid proof, flame retardant, antimicrobial, antistatic, and easy to clean.
Meets Cal Technical Bulletin #117 flammability requirements; optional Cal #129 flame retardant available. Optional defined perimeter reduces the need for bed side rails. 500lb maximum weight capacity. Five year limited warranty.
Features
Weight Capacity: 425 lbs.

This premium support surface offers outstanding comfort, pressure reduction and pressure redistribution

The heel section uses smaller cells to address the sensitive pressure reduction needs of the heels and ankles

100% virgin polyurethane foam offers greater support and resilience than conventional polyurethane foams

Effective for the prevention and treatment of stage I pressure ulcers

Zippered, breathable top cover moves with the patient to reduce shearing

Soft and durable nylon top cover is bacteria resistant, flame retardant, fluid resistant, anti-fungal, anti-static, non-allergenic, near 0% vapor transmission, and is easy to clean

Soft and durable vinyl bottom cover is bacteria resistant, flame retardant, fluid resistant, anti-static, non-allergenic, stain resistant, and easy to clean

Meets 16 CFR 1633 requirements

Latex Free
Specifications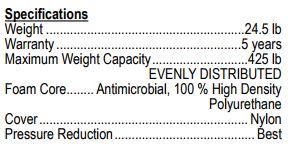 Warranty
5 Year Limited
THIS PRODUCT IS NON-RETURNABLE