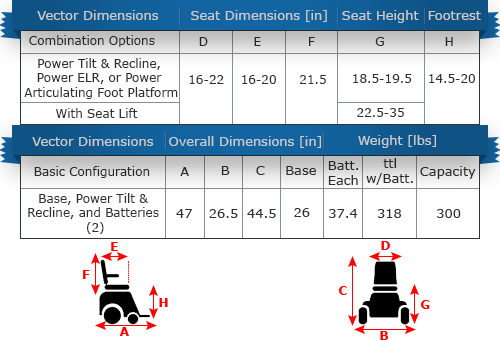 Description
Merits P323-3MPSS Vector Multi-function Rehab Power Wheelchair has a center of gravity that changes based on the sliding seat, a mechanical shear reduction device for injury prevention and armrests that adjust automatically when reclined. The wheelchair's dual in-line motor helps enhance efficiency, torque, range and performance. A seat elevator and power footplate and power elevating leg rests are optional. Maximum speed of the P323-3MPSS Vector is 5 mph and the unit has a range of 24 miles. Weight capacity is 300 pounds.
Features
• Center of gravity changes according to sliding seat
• Shear reduction for comfort and prevention of injury
• Adjustable seat width and seat depth (16"/18"/20")
• Removable battery case for replacing and maintaining battery easily
• Dual in-line motors for enhanced efficiency, torque, range and performance
• Full front and rear adjustable suspension which provides a comfortable ride
• Power tilt operation in 5°~55° for pressure relief
• Power recline operation 90°~150° for comfort
• Optional seat elevator, power foot plate or power elevating leg rests
Specifications
Weight Capacity: 300lbs 
Max. Speed: 5mph
Range: 24miles
Turning Radius: 24"
Ground Clearance: 3"
Motor: DC 24V, 200W (Raiting) / 575W (Max)
Controller: PG VR2 60A / Rnet 60A
Battery: 22NF / 12V 62AH x 2pcs
Charger: 5A off-board
Gradient: 7.5°
Caster: F:8" / R:8"
Drive Wheel: 14"
Brake: Intelligent, regenerative, electromagnetic brakes
Seat Width: 16" - 22"
Seat Depth: 16" - 20"
Seat height: 18.5" - 19.5"
Back height: 21.5"
Max Speed: 5 mph
Drive Wheels: 15"
Casters: 8"
Overall length: 47"
Overall height: 44.5"
Overall width: 26.5"
Total weight with batteries: 320 lbs.
* Two + Power Function through VR2 Joystick Electronics includes;
 VR2 Joystick, Expandable Control Module, Harness and Two + power function are included with the base.