NEW Comfort Spring Suspension for a smoother ride
22 Amp Extended HR Battery 
Red scooter comes with easy-to-change shroud panels from Red to Blue
Description
The Buzzaround XLS-HD offers offer extended range from 14 miles and the springs which provide a softer ride. Featuring a wraparound Delta Tiller, a new LED battery gauge, and a new ultra bright LED angle-adjustable headlight, the new Buzzaround XLS-HD is also longer to offer more foot room, with a great turning radius.  The Buzzaround XLS-HD disassembles in seconds with just 4 easy steps making transporting it from one destination to another a breeze!
Features
• Increased weight capacity up to 325 lb.
• 22 Amp hour batteries standard
• Operating range up to 14 miles per charge
• NEW Comfort Spring Suspension for a smoother ride
• Ultra Bright LED headlight standard
• Charging port below the control panel
• 3 inch ground clearance
• Red and Blue Shroud panels included free
• Disassembles quickly and easily for transport
Specifications
Weight Capacity                    325 lbs.

Drive Wheels                         Rear

Maximum Speed                   4 mph

Under Deck Clearance          3"

Turning Radius                     37"

Type Batteries                      2-22 AH

Colors                                    Red, Blue

Freewheel Mode                    Yes

Electronic Speed Control       Yes

Electro-Mechanical Brakes    Yes

Charger                                  Off-board

Controller                               50 Amp Dynamic  R-Series

Operating Range                    14 Miles

Dimensions 

Length                                     42.5"
Width                                       21.5"
Height (ground to top             33"-35"
Ground to Top of Seat             21"-23"
Ground to Top of Deck            4.75"
Deck to Top of Seat                16"-18"
Number of Seat Height Positions 3
Size of Increments                   1"
Front Axle to Rear Axle            33.5"

Weight of Unit:

Assembled                            114 lbs.
Front Half                               35 lbs.
Rear Half                                28 lbs.
Seat w/Arms                          22 lbs.
Batteries                                 29 lbs pack
Tires                                      
Front                                       8" Solid
Rear                                        8" Solid                                   
Rear                                        Anti-Tip Wheels 2"

Standard Seat

Seat Back Height                   16"

Width x Depth                        18" x 16"  Stadium Style

Color                                       Black Vinyl
Optional Seat
Back Height

- no headrest                           16"

Width x Depth                         18"x 16", 20"x 18"  Stadium Style

Color                                         Black Vinyl
Warranty:
Frame                                     Lifetime Warranty

Drive Train                               2 Year Warranty

Batteries                                  1 Year Warranty

Electronics                               2 year warranty 
GREAT COLOR CHOICE
Golden is now offering all new color shroud kits for their Buzzaround scooter line. These three new glossy colors, yellow, pink and silver, fit on all Buzzaround scooters in Golden's mobility travel scooter line.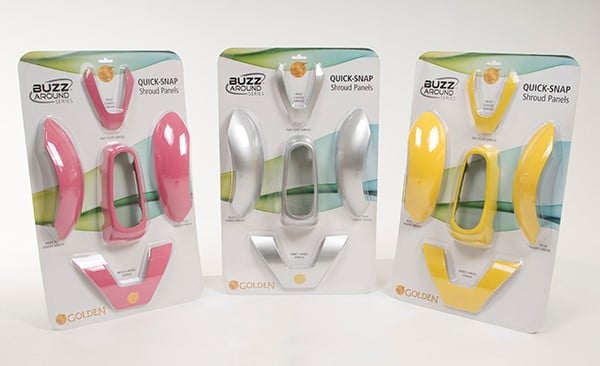 GREAT PRICE
$49

EASY TO USE
As with all Buzzaround shrouds, these are easy to snap on and off and pair well with the red & blue shrouds already included with every Buzzaround scooter.