PR-501M-26, PR-501L-26 and PR-501T-28 have dual motors. This will not move anything independently, because it is just due to weight capacity. 
*Please note:  Any modifications (such as heat/massage, head pillows, etc)  made to an In Stock chair will convert it to a Builder model.  Builder models are made to order and have a build time of 2-4 weeks.
The Golden Comforter PR501 Lift Chair features extra soft seat and back pillows with lumbar support and a "grip rite" arm design.The seat is also extra wide. Made with an emphasis on durability, the Golden Comforter PR501 Lift Chair has one of the strongest frames in the industry. Made of Northern Maple wood, it is double-doweled at stress points, has reinforced miter blocks, and is stapled and glued. This means your  chair will give you years of safe, squeak-free operation. The back is super supportive due to its hand-blown, overstuffed microfiber fill. The armrests use 2" of block foam for extra comfort.
Golden Technologies recognizes that "One size does not fit all." We've expanded our classic Comforter Series, with wider seating areas and greater lifting capacities — 375, 500 and 700 lbs. — the highest in the marketplace. Most of the five lift/recliners in this series use two heavy-duty motors for strength and support, with a three position style recline mechanism.
Enjoy your Golden chair knowing that is hand made by craftsmen with decades of motion furniture experience. Lifetime chair frame, lift frame, and recline mechanism warranty. The Golden Tech Comforter Extra Wide Heavy Duty lift chair has the ability to recline to a napping position, and comes with a large choice of sizes. The full chaise lounge styling offers comfort from head to foot, with added safety of eliminating the space between the end of the seat and the top of the footrest. Reclines to both reading and napping positions.  Maple frame is reinforced and double-doweled. The cushions are high-density foam for durability. 
Features
Hand Stuffed Seam Back
Exceptional Lumbar Support
Full Chaise Pad Support for Total Body Comfort (Except PR502. This model features a split chaise pad)
Easily Raise to a Standing Position
Gently Lower to a Seated Position
Recline for Extra Comfort
"Full Napper" Position
Superior Leg Extension
SmartTek™ Inside – Patent Pending Diagnostic System
Meets California Safety Code: Cal 117
Non-Skid Leg Levelers for Extra Stability and Safety
Easy Access Battery Back-Up System
Best Warranty in Industry
5 Sizes to Choose From: Small (PR501S23), Medium (PR501M26),
Large (PR501L26), Extra Large / Bariatric (PR502), Tall (PR501T28)
Lifting Capacity: Varies by Size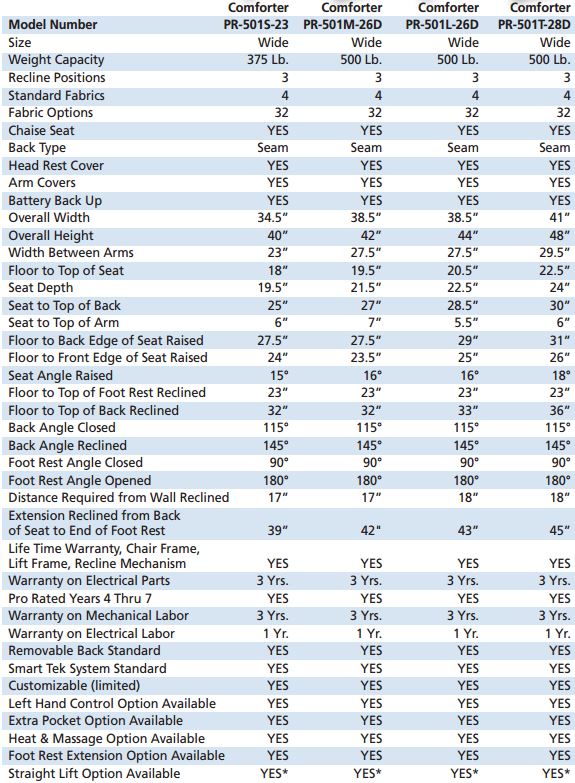 Warranty
Life Time: Chair Frame,Lift Frame, Recline Mechanism
3 Yrs.: Electrical Parts (Pro Rated Years 4 Thru 7 YES) 
3 Yrs.: Mechanical Labor 
1 Yr. :  Electrical Labor